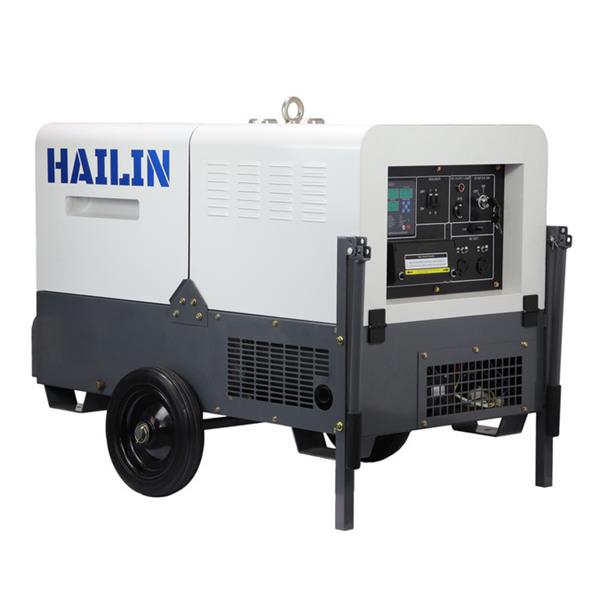 Soundproof Diesel Generator – HL12000SE
Ideal for emergency back-up, job sites and agricultral applications. Powered by reliable air cooled diesel engine, industrial grade, great fuel efficiency, less maintenance and long operating life. Strong-build capony, life eye, durable and strong protection and security on the job.
Low oil shutdown provides added safety against engine damage.
25 liters long run fuel tank w/ fuel gauge.
13 inch wheel kit and handle for easy transportation.
Two-side open (patent design) for easy operation and maintenance.
ATS socket for connecting with an external automatic transfer switch.
Request for a quotation!
Contact us for a free quotation or request additional information.
| | |
| --- | --- |
| Model | HL12000SE |
| Rated Output | 9.5kVA@50Hz; 10.5kVA@60Hz |
| Max. Output | 10.5kVA@50Hz; 11.5kVA@60Hz |
| Noise Level | 67dBA@7meters |
| Phase | 1 |
| Power Factor (cos φ) | 1.0 |
| Excitation Method | Controllable silicon self-excitation |
| Rated Voltage | 120V, 220V, 230V, 240V, 110/220V, 115/230V, 120/240V |
| DC Output | 12V-8.3A |
| Engine Type | Forced air cooled, 4-stroke, double-cylinder diesel engine |
| Engine Model | HL292FE |
| Starting Method | Electric Start |
| Displacement | 997 cc |
| Fuel Tank Capacity | 25 L |
| Continuous Running Time | 7.5 hrs@50Hz; 7.0 hrs@60Hz |
| Dry Weight | 320 kg |
| Dimension | 1390x790x940 mm |
| | |
| --- | --- |
| Model | HL12000SE3 |
| Rated Output | 11.8kVA@50Hz; 13.0kVA@60Hz |
| Max. Output | 13.0kVA@50Hz; 14.4kVA@60Hz |
| Noise Level | 67dBA@7meters |
| Phase | 3 |
| Power Factor (cos φ) | 0.8 (lag) |
| Excitation Method | Controllable silicon self-excitation |
| Rated Voltage | 380/220V, 400/230V, 415/240V |
| DC Output | 12V-8.3A |
| Engine Type | Forced air cooled, 4-stroke, double-cylinder diesel engine |
| Engine Model | HL292FE |
| Starting Method | Electric Start |
| Displacement | 997 cc |
| Fuel Tank Capacity | 25 L |
| Continuous Running Time | 7.5 hrs@50Hz; 7.0 hrs@60Hz |
| Dry Weight | 320 kg |
| Dimension | 1390x790x940 mm |